Coagulation and flocculation of solvent-based paint and varnish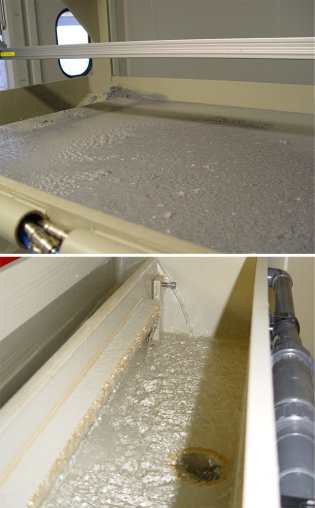 In general, coagulation is referred to as a artificial, forced flocculation of tiny particles and very tiny particles called colloids; by measures that force the growth of the particles.

NISKAE's coagulants 1000-1099 is a range of liquid products made for water treatment and wastewater treatment that turn matters into flocs and make water separation possible, or by amplifying the electric load.

Because of their neutral or not so alkaline nature, NISKAE's products make the solvent loaded paint particles (that come from a water curtain equipped paint booth, with "overspray") and other organic or inorganic particles coagulate. After the coagulation, suspended particles flocculate and the solvents in the circulation water link up by absorption.
Our skimmers for paint sludge extraction get rid of coagulated paint particles by aero flotation and surface scrapping.

NISKAE's coagulants guarantee the neutralization and extraction of various different paints and varnishes: nitrocellulose varnish, polyurethane varnish, solvent-based ink, UV hardened-varnish, alky-melamine resin, polyester varnish, DD varnish, acrylic resin-based varnish, light varnish, high-solid varnish, hardened varnish…