A pilot unit for an autonomous and reliable water treatment
The client operates thirty factories, each of which must be equipped with a wastewater treatment station. To evaluate the needs and to offer customized solutions, we installed a fully automatic SW200 pilot unit, connected to an existing storage tank. The installation includes;
A 200L reactor and two filtration boxes for physico-chemical treatment of water and sludge conditioning;
A 1000L capacity storage tank equipped with a booster and intended for the recycling of treated water;
A pneumatic lifting system to transfer wastewater to the treatment station;
The micro-station is equipped to ensure safe automatic and industrial operations.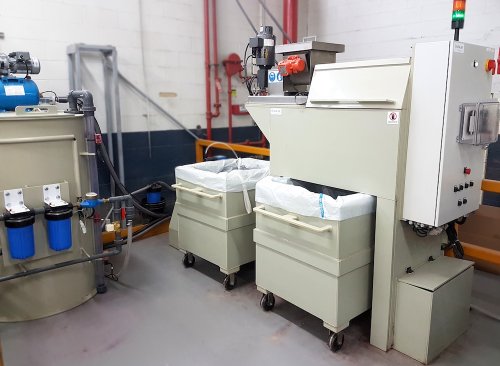 Municipal compliance and sustainable development
The pilot unit can perform up to 6 treatments per day, 200L at a time. Our laboratory analysed their wastewater samples and we formulated an adapted coagulant / flocculant reagent.
Following a 6-month trial period, the client;
Has reached municipal storage limits;
Has obtained authorization for the discharge of treated water into the pipelines;
Has simplified logistics and minimal wastewater management costs;
Achieves its sustainable development goals;
Optimizes its ecological image.
The pilot station, reliable and fully autonomous, allows the discharge of clear and clean water. The multinational is now planning to equip several factories with NISKAE automatic water treatment stations!